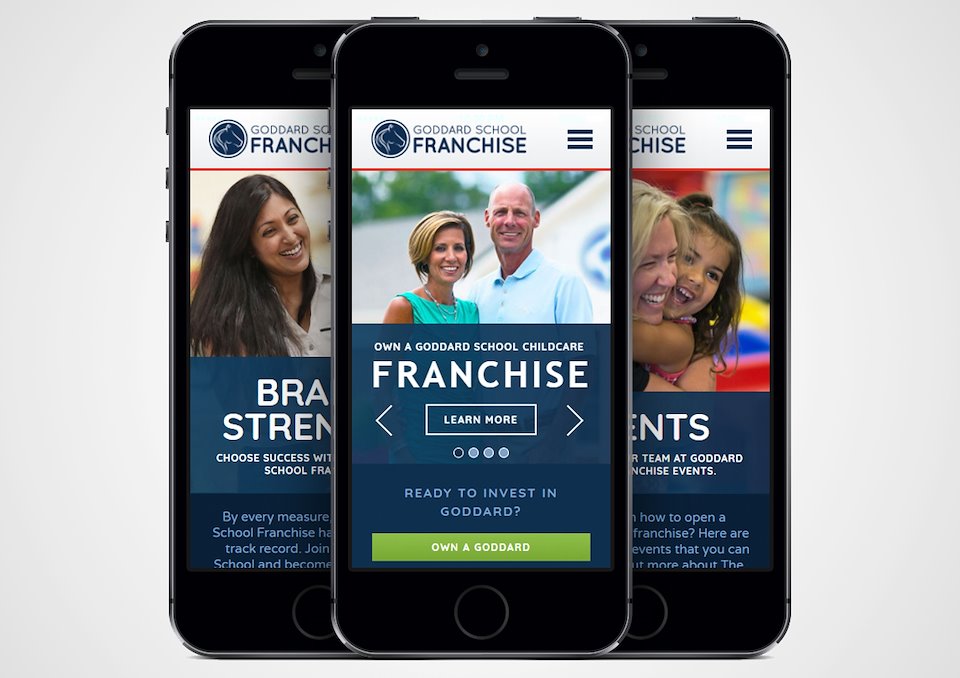 INTRODUCTION
The Goddard School franchise website was in need of a design and development refresh. The old design was not mobile friendly, had unclear messaging about the product that was presented, and showcased an outdated look and feel. The client requested a complete redesign of the website to address these specific issues.
THE CHALLENGE
The goal of the redesign was to create a website the could perform on modern digital devices, is easy to navigate, increased site traffic and is aesthetically pleasing to the eye. The client stated that many users didn't know the purpose of this site is to purchase a franchise. Because of this, many parents instead filled out the contact form to enroll their children in the school.
Looking at the old homepage below, it's clear the previous design was outdated, cluttered and confusing for users to navigate.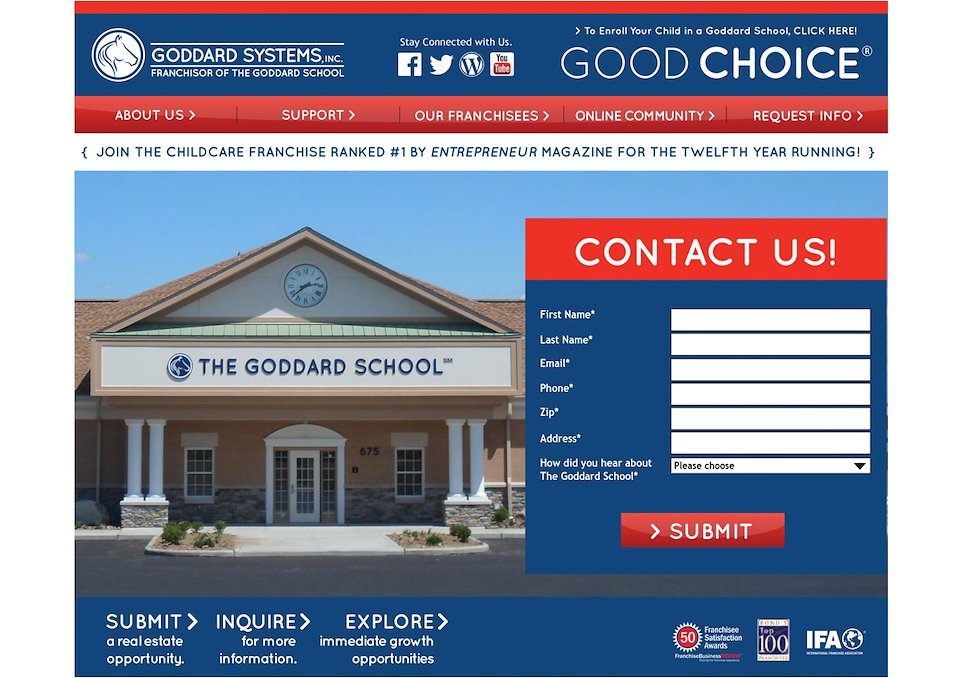 Old Goddard School franchise website.
THE PROCESS
At the start, I felt it was important to create a solid navigation that users would understand. I aimed to emphasis that this was a franchising website and not a tool for school enrollment. In addition to creating a new site structure, I focused on simplifying the amount of content and redesigned where specific site elements were placed within the pages.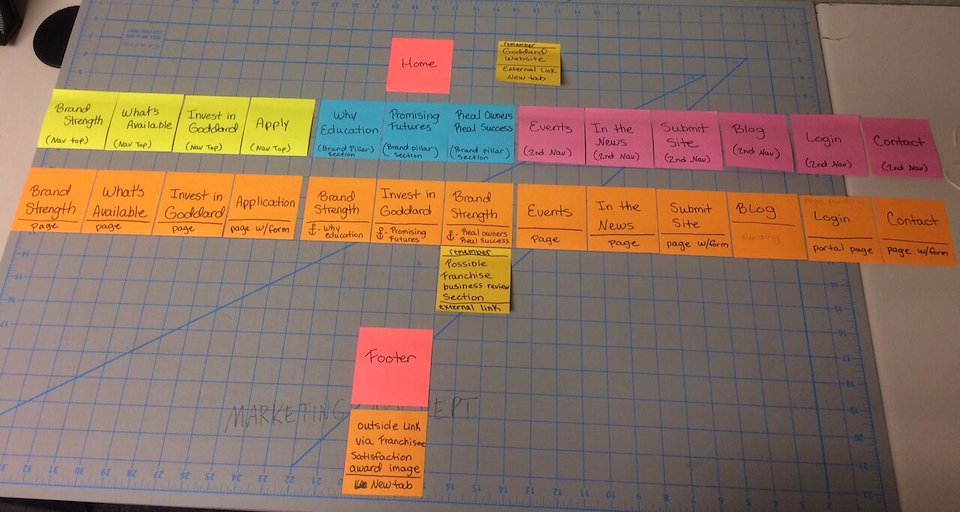 Planning the new site structure.
THE FINAL DESIGN
The final homepage redesigns in desktop and mobile sizes are shown below. They showcase some of the most prominent changes made on the overall design and messaging on the site. My creation of the "Goddard School Franchise" logo in addition to the "Own a Goddard School Childcare Franchise" headline eliminates the confusion users encountered in believing this was a site for school enrollment. A clear call-to-action has been placed at the top to easily guide users toward applying for a franchise purchase. Finally, the contact form has been removed from the top banner area so users have to browse through the content, giving them a clearer understanding of the product presented.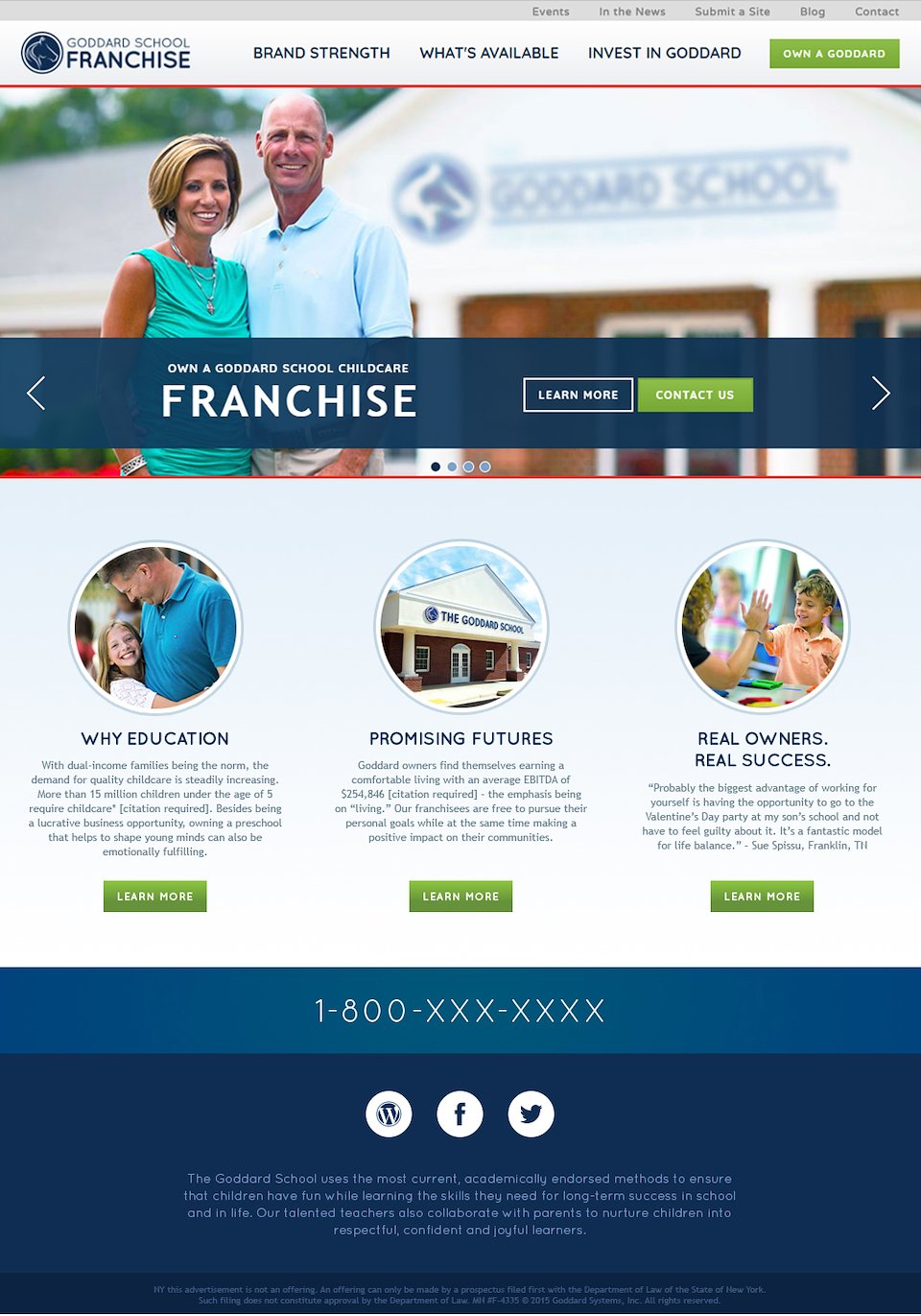 Final desktop redesign.

Final mobile redesign.
RESULTS
When the metrics of the old website were compared to the metrics of the new website, there was a huge percentage increase in virtually every area that was tested. The most significant jump was in page views of the new site which boasted a 206% increase. Not only were the clients pleased with the new look and feel of the website, they were pleased that the changes made were effective in increasing site visibility.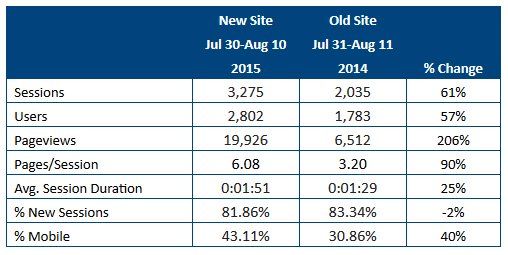 Metrics comparing the new franchise site with the old.